THE RESTAURANT OF THE HOTEL SAVEL
Your restaurant with terrace in the heart of Ruoms in the magnificent park of the hotel Savel
open every evening excepting Tuesday
Discover the large terrace of the Savel restaurant in the heart of a wooded park, surrounded by flowers, small lights and the song of birds … In this soothing atmosphere, taste our refined dishes, come and spend a friendly moment with us. Service starts 7 p.m.
Restaurant open to everyone – on reservation only!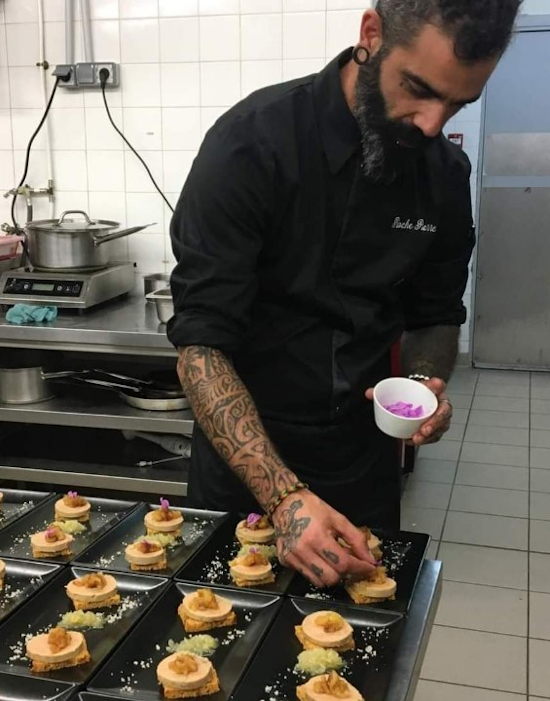 At down at his fourties, Pierre joins the Savel team as a chef.
From his native region Drôme where his two brothers introduced him to the demanding world of culinary art. He decides to settle in Ardèche in order to finally give free rein to what has become a real passion. Creator of revisited surprising, refined recipes, he wants to combine local, natural and BIO to his fertile imagination. He likes to stand out while maintaining the basics of a family kitchen, but elegant. He relies on his inspiration of the moment in order to present you a menu where "eating well" and refinement hang out. 
You will be surpised to discover dishes with known notes often coming from Provence, and yet mixed with local flavours, presented in a plate by which your taste senses, olfactory and visual will be fulfilled. 
Passionate, totally invested, he just says "want to be proud of his day"
ON RESERVATION ONLY
Phone : +33 (0)4 75 39 60 02
E-mail : accueil@hotel-savel.com
A la carte service and menu 35€ (changes daily, starter + main course + desert)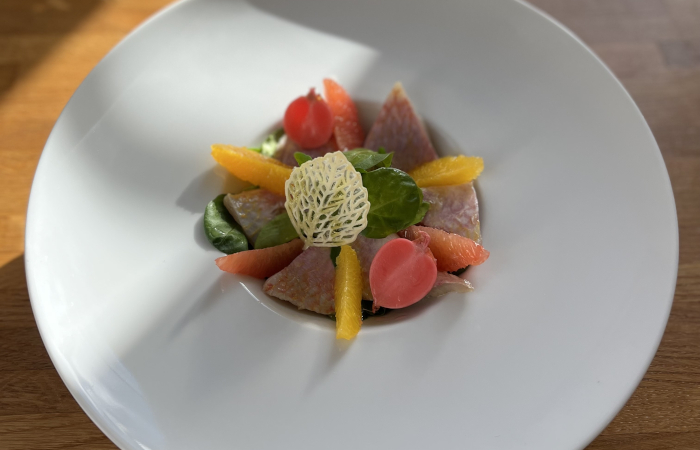 Red oignon filled with goat cheese from Beaulieu and caramelized oignons and thym, under a burning leaf
red mullet ceviche with melon and basil
Tomato mozzarella with basil and mint new creation of Pierre
Grilled tomatoes, eggplant, zucchini and potatoes with basil pesto and lemon zest
John Dory Fish fillet poached in verveine, coated wiht roasted almonds, lemon verveine sauce, rice and veggies
Beef tenderloin from Ardèche cooked on a low temperature, smoked with organic hay, potatoes and seasonal vegetables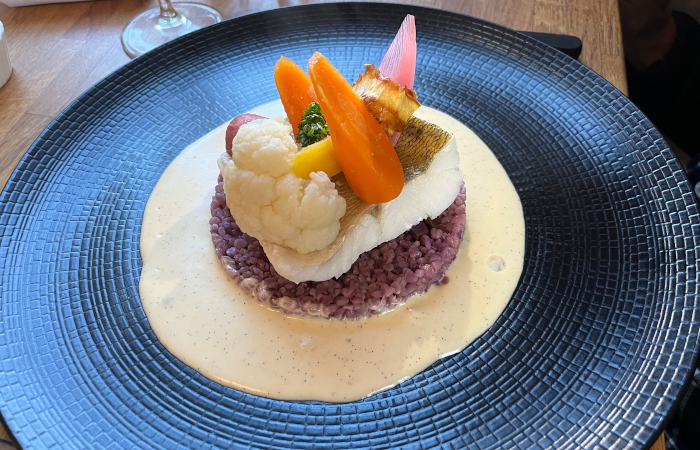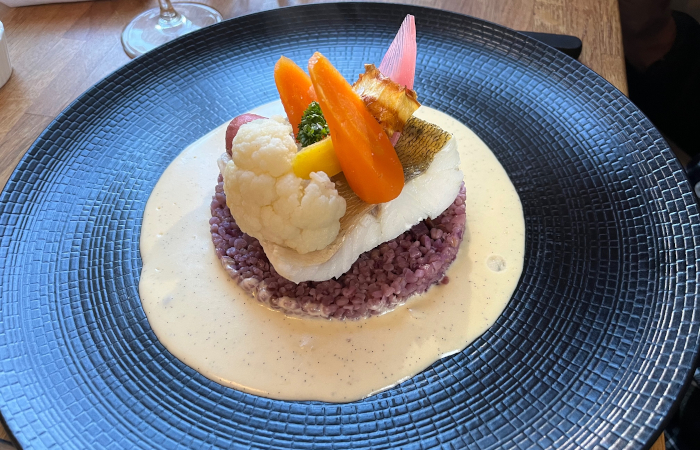 Grilled tomatoes, eggplant, zucchini and potatoes, basil pesto and lemon zest
John Dory fish fillet poached in verveine, coated with roasted almonds, lemon verveine sauce, pilaf rice and veggies
Beef tenderloin from Ardèche cooked on a low temperature, smoked with organic hay, potatoes and summer vegetables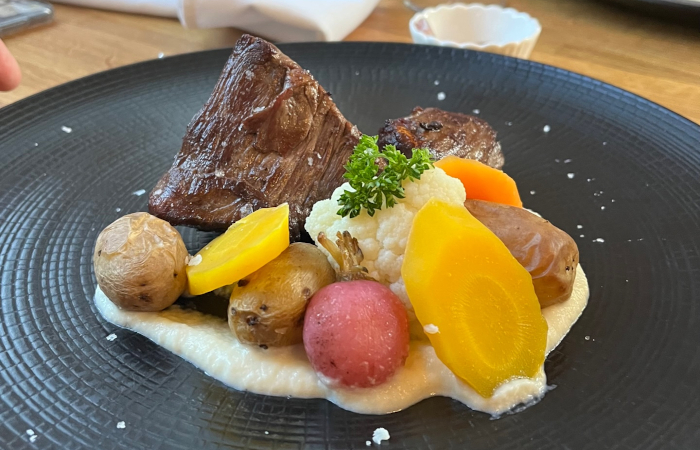 Apple cooked in the oven, vanilla sauce and crumble
The day at Hotel Savel starts with a rich breakfast with bread and buns from the oven. Local cheeses, homemade jams, cereals and seeds, fresh fruit salad, cottage cheese and yoghurt … All this accompanied by a good coffee or fruit juice. The breakfast buffet is 13€50 per person and in best case you can enjoy it on our sunny terrace